James Ashenhurst over at Master Organic Chemistry has developed an awesome new app called Reagents.  The app is perfect for students taking undergraduate organic chemistry – but anyone working with organic reagents will benefit from this app.  It's available from the iTunes App Store.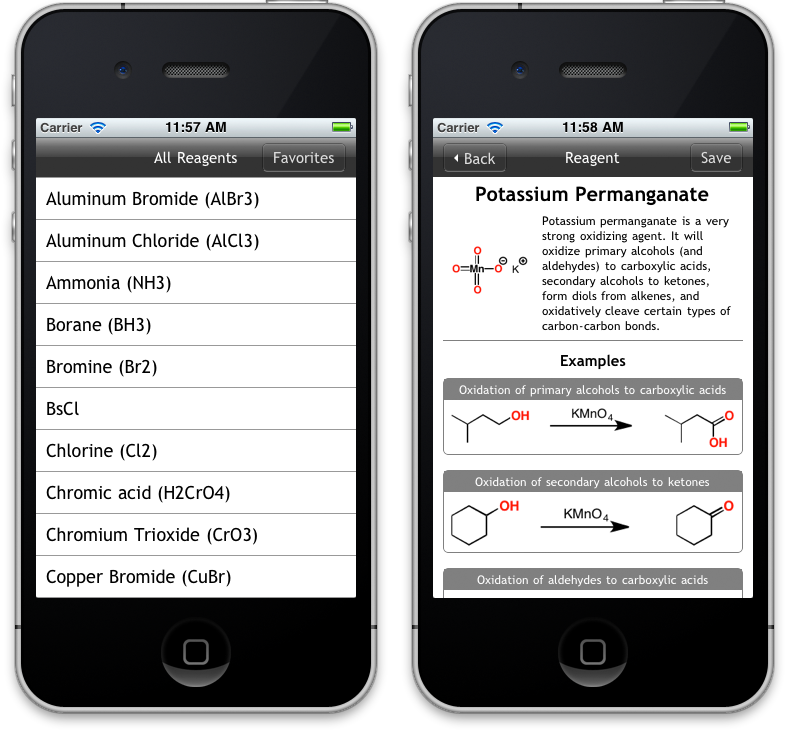 via MasterOrganicChemistry.com
The app is a list of all of the most common reagents encountered in undergraduate organic chemistry.  Selecting a link takes you to a page which gives you a short narrative overview of the reagent, an image of the structure of the reagent, and several examples of prototypical reactions using the reagent.  You can 'save' a reagent to your favorites list so you don't have to scroll through the whole list if you don't want.
This is really a heroic effort.  James and his coauthor Richard Apodaca have given organic students everywhere the handy, mobile reagent guide they all should make for themselves… but never do.  The interface is clean, readily obvious, operationally simple, and does exactly what it needs to do.  It's a slimmed down version of the full Organic Chemistry Reagent Guide James rolled out a while ago (which is also spectacular, btw). I've been playing with it for a little while now, and it's great.
The Reagents app is currently free, but that is a limited time offer and will expire soon.  Tell all your organic chemistry professor friends so they can tell their students.  It's currently only available for Apple mobile products, but according to the Reddit conversation, there may be an Android version in the works.
And thanks, James, for giving me one more reason to make sure cell phones are safely stowed during my exams.